news




JinJin Basara -
甚深バサラ-
"JinJIn"is a word of my own creation denoting the depth and vastness of the universe,and expressing the reverence and gratitude we feel at being allowed to exist in it. The term "Basara"refers to sensibility fashionable in Japanese culture some 450 years ago,and means to dance around in lavishly wild abandon.Japanese Kabuki Theater had its beginnings at this time and continues down to the prsent day.
J
inJin-mon Hakuhari -
深甚文箔玻璃
-
These pieces are created through a fusion of glass,which comes from Western culture,and
lacquer and gold leafing,which are part of ancient Japanese culture.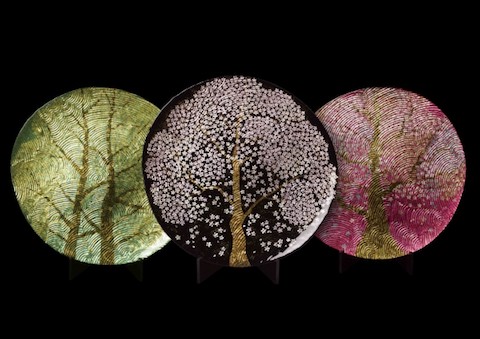 Cherry Trees Laughing to Heaven
天笑桜:[1000,980,80]-[960,960,60]-[925,925,50](mm)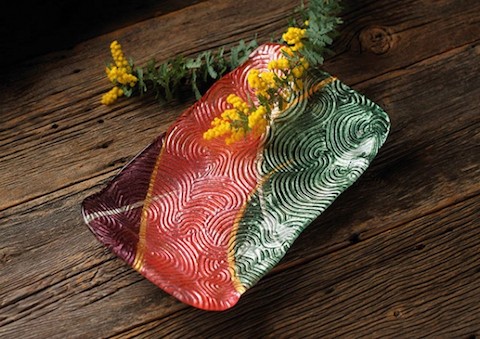 [445,280,70](mm)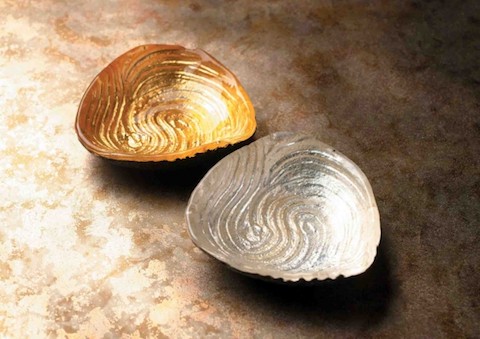 [125,125,30](mm)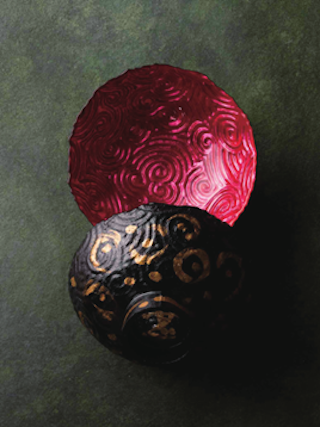 [240,240,105](mm)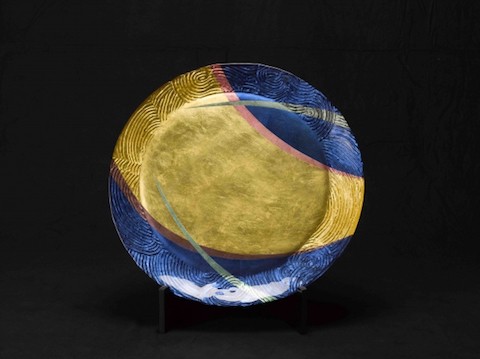 Light of the moon
月の光:[700,700,35](mm)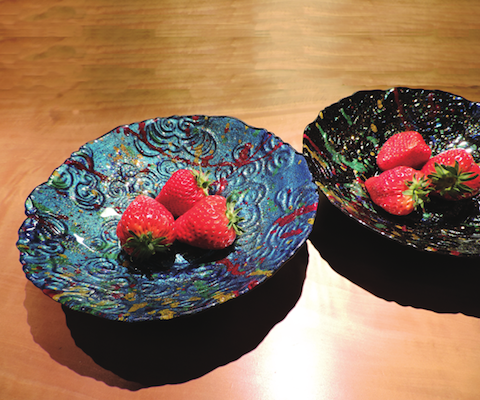 [250,250,60](mm)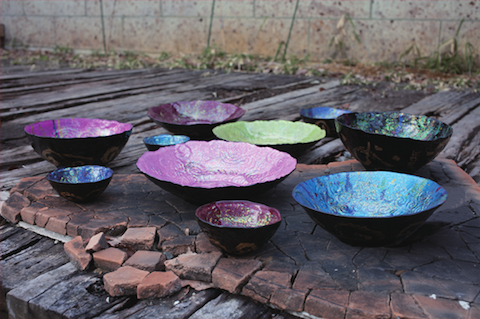 Big Bang series
Naughty and Pemutadle
My art,I believe,represents the end point of the inspiration that welled forth at the moment

of its inception.

By "naughty" I mean disruptive in the sense that it doesn't conform to any set pattern.
"Permutadie"may be understood by picturing water at the instant it crystallizes into flakes of snow,no two of which are ever the same.For me this symbolizes the composition of the
universe,a harmony of random permutations.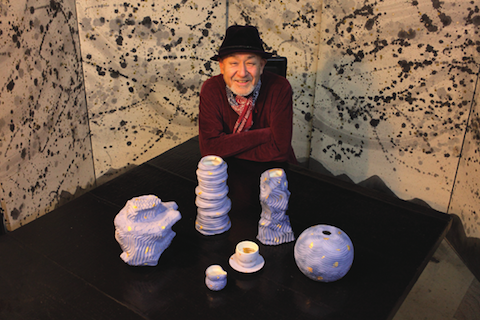 JinJin Blue series
JinJin-mon
-
深甚文
-
Picture me intently scratching wavy shapes onto the clay surface with a comb I fashioned
myself.This I call my "JinJin-mon" ,or wave motif.What I am attempting is not merely to
create imitations with the warmth and forcefulness of Jomon pottery,but rather to reconstruct,
through the means of my own physical body,the spirituality imbued in Jomon vessels,each
one of which is a prayer of divine awe and reverence.
JinJin-mon itself expresses the five elements of the ancient Chinese philosophy of yin and
yang―wood,fire,earth,metal and water―of which all things,living and nonliving,in heaven
and on earth are composed.
JinJin-Mon-Kokuto -深甚文黒陶-
"Kokuto",or black ceramics,I create through my own personal firing technique done at high
temperature(2380°F)in a strongly reducing or carbonizing atmosphere.
Some 10~20 thoussand years ago pottery making was discovered and practiced in many
places around the world.Jomon earthenware vessels of Japan stand out for their unique
shapes and designs.My journey the discover my own roots led my thoughts to the Jomon
period,and trying to imagine the lifestyle and rituals of the ancient time,I gradually began
gving shape to my "memories"of Jomon.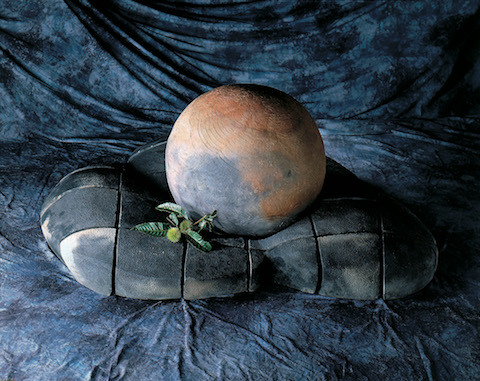 私の丸石神:[1800,1800,900](mm)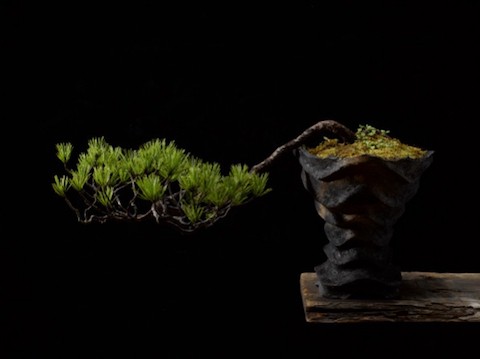 Cliff Hanging Pine and Ridged Vase
懸崖の絵と刻段鉢:[310,310,360](mm)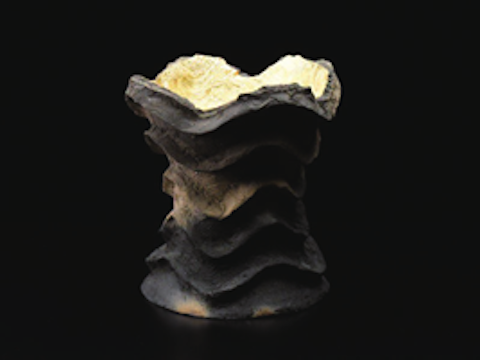 Song of Ancient Jomon
縄文の歌が聴こえる:[330,300,210](mm)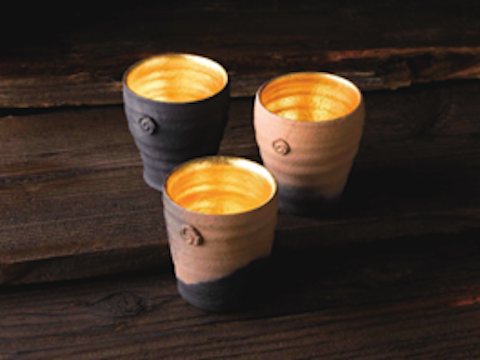 Black Ceramic Tea Cups with Gold Leaf
黒陶窯変箔押湯呑:[700,700,35](mm)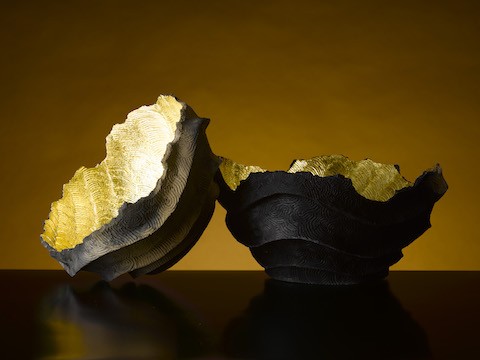 Hommage to the Sun -Wellspring-
太陽へのオマージュ:[460,460,220]-[480,480,230](mm)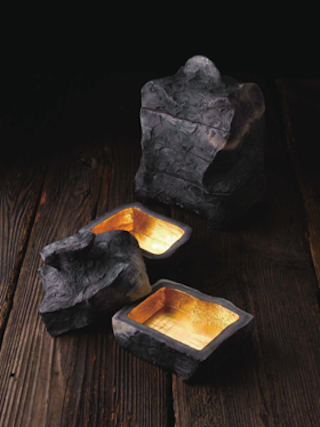 Black Ceramic Jinjinmon Boxes with Gold Leaf
黒陶甚深文箔押陶筥:[210,155,270](mm)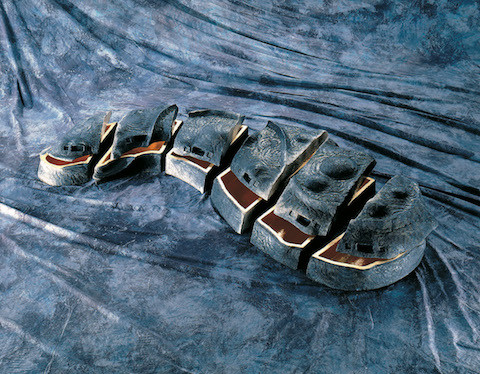 Embryonic Wriggles ( British Museum collection )
胎動 - 蠢(うごめ)く形 (大英博物館収蔵):[2000,1000,380](mm)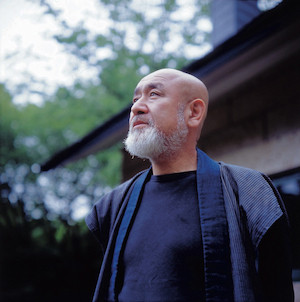 JINNAI SAKATA
1943  Born in Tokyo.
1966  Builds own kiln and becomes independent.
1971 First individual exhibition.Continues as exhibiting artist.
1922 Builds Sakuramori Studio and makes a new start.
1994 First artist to exhibit at the newly opened Takasimaya Gallery in New York.
2000 Begins working in glass.Continues to exhibit at Takashimaya in Nihonbashi and at various other places throughout Japan.
Works in public and private collections


British Museum/Rockefeller Foundation / US Embassy,Tokyo / Foundation for
International Exchange / Japan General Consulate,Shanghai/ Beijing Seika University/
Xi'an University/ Ise Shrine / Izumo Shrine / Atsuta Shrine/ Takachiho Shrine / Kameoka
Hachimangu(Mashiko) /Yakusiji(Nara)/ Enryakuji Temple, Mt.Hie/Kodaiji temple,
Entokuin /Nasu Trappist Monastery / Waseda University /Waseda Jitsugyo High School etc.

Jinnai Sakata Sakuramori Studio
2190-1 Sakuramori,Osawa,Masiko-cho,Tothigi, JAPAN, 321-4104
Tel/Fax : +81-285-72-8660/ 0285-72-8600
E-mail: jinnai(a)guitar.ocn.ne.jp
※(a)→@
URL http://jinnai-sakata.com/